All You Need To Know About BTS | Let's Get Purple!
Whether you are a hardcore bias shipper, an OT7 stan, or just a newbie who finally found the Korean Hogwarts. Here are some little core details that will paint your sky purple.
Greetings in Purple!
Hello Chingus!
Well, the year has finally grooving on the last golden days of 2022 and with the year-end comes the excitement, thrill, and bittersweet feeling of our Beloved Bangtan Boys' Future Endeavours.
Whether you are a hardcore bias champion, an OT7 stan, or just a newbie who finally found the purple Korean Hogwarts.
Here's a list of Bts birthday dates, zodiac, birthplace, blood types, stage names, cute nicknames called by our versatile BTS Army, and much much more all under one roof to refresh your purple army knowledge and help you find your compatibility in the 'Flames games a little faster.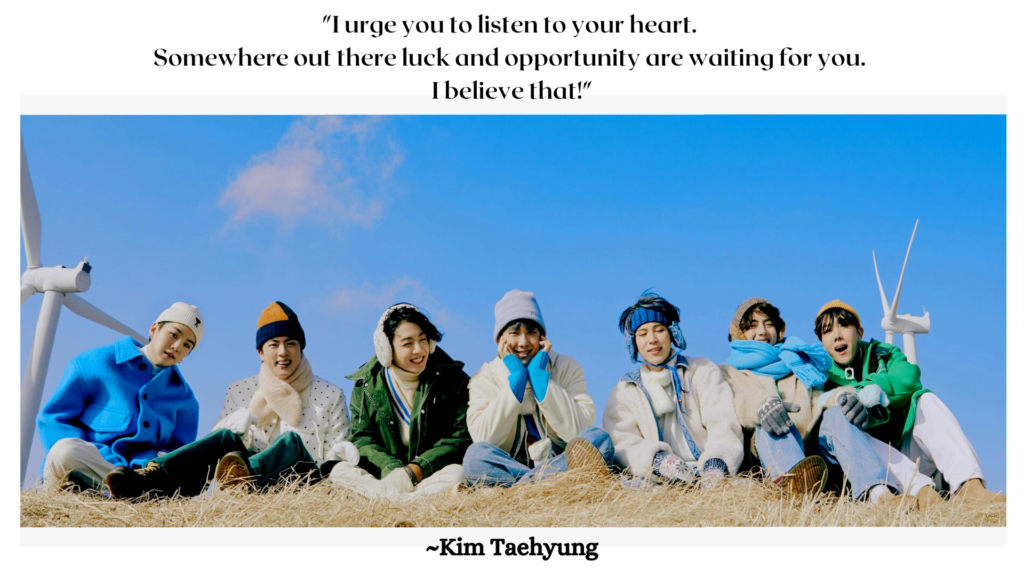 THE CREATION OF BTS:
Bangtan Sonyeondan popularly known as BTS is a South Korean boy band of septet (7 members) that debuted on June 12th, 2013 under Big Hit Entertainment, Seoul. The word 'Bangtan Sonyeondan' stands for Bulletproof Scouts in Korean and their first album is '2 Cool 4 Skool'. The song 'No More Dream' is the first debut song and the beginning of their golden legacy.
Also Read: BTS Jimin's Exciting Solo Comeback With BIG BANG Taeyang Updates On 2023
BANGTAN BIRTH DATES :-
HYUNG LINE
Kim SeokJin or Jin: December 4, 1992, | Date as of 2022 [30 years]
Min Yoongi or Suga: March 9, 1993, | Date as of 2022 [29 years]
Jung Hoseok or J-Hope: February 18, 1994, | Date as of 2022 [28 years]
Kim Namjoon or R.M: September 12, 1994, | Date as of 2022 [28 years]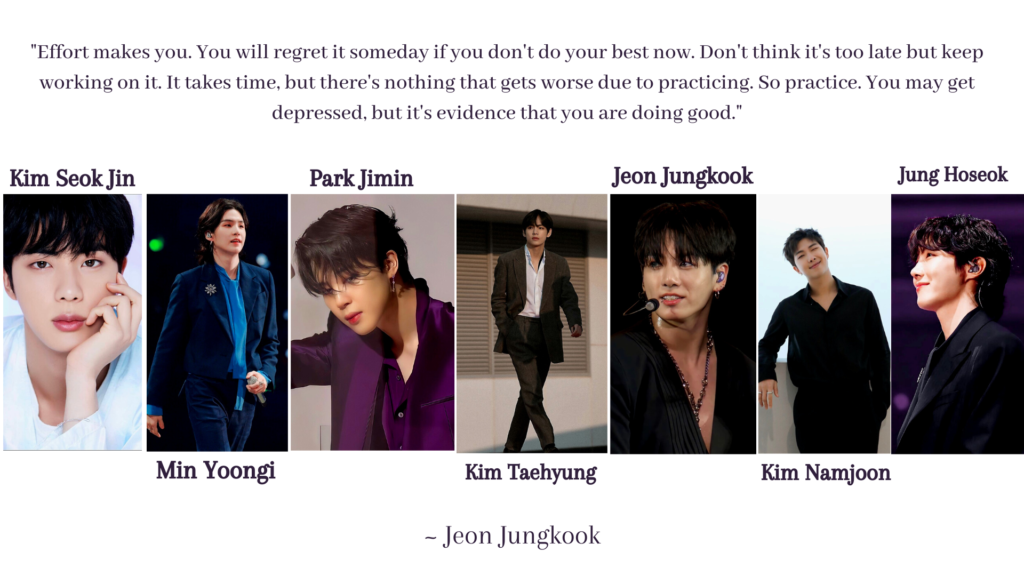 MAKNAE LINE
Park Jimin or Jimin: October 13, 1995, | Date as of 2022 [27 years]
Kim Taehyung or V: December 30, 1995, | Date as of 2022 [26 years]
Jeon Jungkook or JK: September 1, 1997, Date as of 2022 [25 years]
Note: "Hyung Line" denotes the members who are the elders of the group whereas "Maknae Line" denotes the younger members of the group based on age.
Also Read: BTS V Is To Be Filmed In The New 'Youn's Kitchen', A Spin-off With Park Seo Jeon and Choi Woo Sik
BTS ZODIACS
Jin: Saggitarius | Monkey
Suga: Pisces | Rooster
J hope: Aquarius | Dog
RM: Virgo | Dog
Jimin: Pig | Libra
V: Pig | Capricorn
Jungkook: Ox | Virgo
How does Chinese Zodiac Signs Came Into Existence?

Chinese zodiacs use animal names to describe and characterize personalities. Each animal sign represents a year in a 12-year cycle, a day in the 12-day cycle, and every 2 hours in a 24 hours time zone.

Once upon a time, one of the most important gods in traditional Chinese religion Jade Emperor organized a race. He invited all the animals in the world to take part in it.

Twelve species showed up at the start line, a dragon, a snake, a rooster, a pig, a dog, a monkey, a sheep, a horse, a rabbit, a tiger, an ox, and a rat. As a reward, the Emperor named a year in the Zodiac after each one. The order were determined based on the place they finished the race.
How does Western Zodiac Signs Are Created?

The 'Babylonians' mapped out the fixed stars and various constellations and followed a 12-month calendar assigning each month a zodiac sign.

The names of the constellations in the western zodiac came from the twelve Olympian gods of Greek Mythology. Each sign carries a different personality and have it's own strength and weaknesses. All of the sign is influenced by a planet or star and each of the god is known to be the protector of his own sign.
Also Read: BTS Jin Will Work At Fire Department On Military Service | Reveals Short Hair
Birth Place of Each BTS Member:
Kim Seokjin a.k.a Jin: Ilsan-gu, Goyang, South Korea
Min Yoongi a.k.a Suga: Daegu, South Korea
Jung Hoseok a.k.a J- Hope: Gwangju, South Korea
Kim Namjoon a.k.a R.M: Ilsan-gu, Goyang, South Korea
Park Jimin a.k.a Jimin: Busan, South Korea
Kim Taehyung a.k.a V: Daegu, South Korea
Jeon Jungkook a.k.a JK: Mandeok dong, Busan, South Korea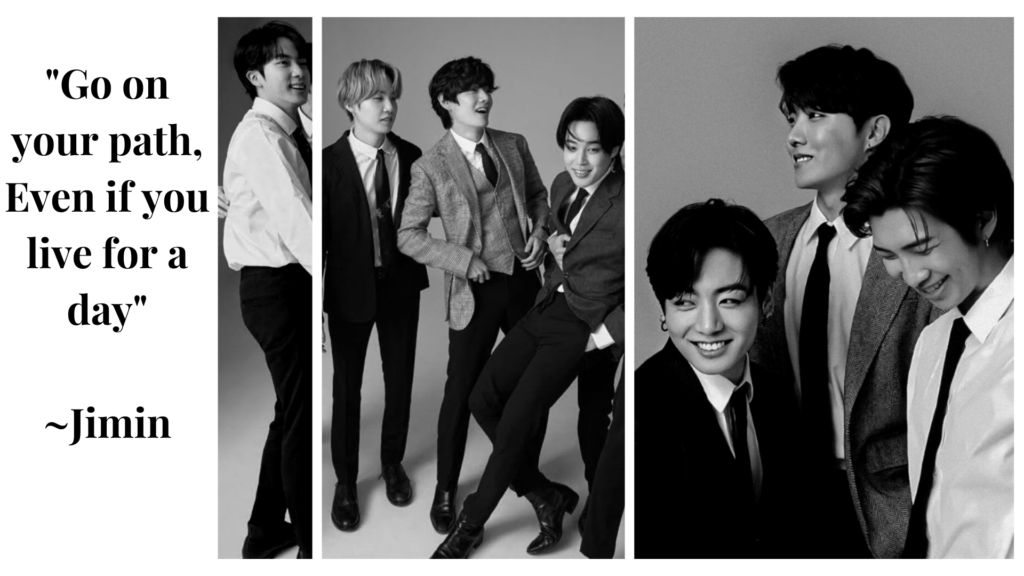 Blood Types of The Seven Normal Boys From South Korea:
Kim Seokjin a.k.a Jin: Blood Group O [Universal Donor]
Min Yoongi a.k.a Suga: Blood Group O
Jung Hoseok a.k.a J- Hope: Blood Group A
Kim Namjoon a.k.a R.M: Blood Group A
Park Jimin a.k.a Jimin: Blood Group A
Kim Taehyung a.k.a V : Blood Group AB [Universal Receiver]
Jeon Jungkook a.k.a JK : Blood Group A
Stage Names of Each of The 7 Members:
Kim Seokjin as known as Jin of BTS
Min Yoongi as known as Suga of BTS
Jung Hoseok as known as J- Hope of BTS
Kim Namjoon as known as R.M or Rap Monster of BTS
Park Jimin as known as Jimin of BTS
Kim Taehyung as known as V of BTS
Jeon Jungkook as known as J.K. of BTS
Also Read: BTS's Latest Record With Consecutive Wins As "Favourite Pop Duo Or Group" At The AMAs 2022
NICKNAMES OF OUR BANGTAN BOYS :
We Army literally run out of names to call our 7 baby boys a little more dearly. What's special is each of the member's nicknames carries a cute little background tale but that's a story for a different time to tell.

For now, here are some of the names that the BTS Army has come up to date.

Jin or Kim Seokjin: Alpaca, Eomma of BTS, World Wide Handsome, Oppa.
Suga or Min Yoongi: Meow Meow, Savage Hyung, Sleeping Beauty, Jjang-Jjang-Man-Boong-Boong and Yoongi Marry Me (Just Kidding).
J-Hope or Jung Hoseok: Army's Sunshine, Hobi, Golden Hyung, Army's Hope, Seokie.
R.M. or Kim Namjoon: Rap Monster, Joon / Joonie, Namjoonie, Appa of BTS, God of Destruction, Moon Child.
Jimin or Park Jimin: Chim Chim, Mochi, Jiminie, Baby Mochi, Jiminie Pabo, Mang Gae Ddeok, and the list never ends…
V or Kim Taehyung: taehyungie, taetae, tae, vante, Winter Bear, Baby Bear, Tiger, Baby tiger, Gucci Prince, Gucci Boy, CGV, Visual King.
Jungkook (JK) or Jeon Jungkook: Kookie, Baby Star Candy, Jungkookie, Nochu, Bunny, Muscle Pig, Golden Maknae, Jungshook, Justin Seagull.
BTS ANIMAL EMOTICONS USED BY THE ARMY:
The social media rules with acronyms and our BTS Army too love to talk about our boys over chat keeping their names short, sweet and digital. Below is a list of emoticons that we Army and BTS use to address each other over social media.

Jin: Alpaca, Sugar Glider denoted by Hamster
Suga: Cat
J- Hope: Horse
R.M: Koala
Jimin: Baby Chicken or a Chick
V: Brown Grizzly Bear and Royal Bengal Tiger
JK: Rabbit
ARMY: Whale
B.T. 21 CHARACTER NAMES:
BT21 is a new IP created in association with 'LINE FRIENDS' and 'BTS'. Rather than creating simple avatars, BT21 consists of eight unique characters.

Suga commented that the avatars should have a touch of the future so that they could live for the next 100 years and all the members actively participate to contribute their own creativity in their avatar sketches and elaboration.

The word B.T. is taken from their band name BTS and the number 21 signifies the 21st Century. It launched on October 2017.

Kim Seokjin as known as Jin of BTS: 'RJ', is a kind 'Alpaca' who wears a red woolen scarf.
Min Yoongi as known as Suga of BTS: 'Shooky' is a funky 'Cookie' filled with mischief.
Jung Hoseok as known as J- Hope of BTS: 'Mang' is a dancing 'Horse'.
Kim Namjoon as known as R.M or Rap Monster of BTS: 'Koya' is a complicated blue 'Koala'
Park Jimin as known as Jimin of BTS: 'Chimmy' is a passionate 'Puppy'
Kim Taehyung as known as V of BTS: 'TATA' is a curious 'General' with a red heart-shaped face.
Jeon Jungkook as known as JK of BTS: 'Cooky' is a pink tough 'Muscle Bunny' obsessed with exercising.
Army: 'Van' is a 'Space Robot'.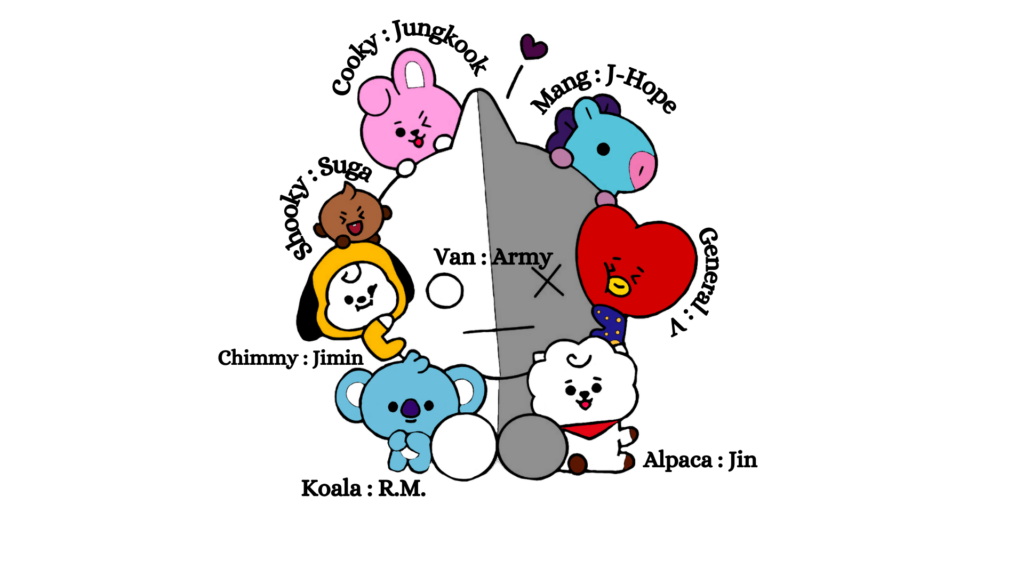 The Birth of 'Army'
In an interview on 'The Tonight Show starring Jimmy Fallon, BTS was asked about the rumor of naming their fandom "Bells".
Jimmy Fallon : Is it true that instead of calling your fans Army, you were originally to call them "Bell"?

R.M. and other members togetherly agreed on the fact and R.M. further explained that the word "Bell" in Korean is "Bang Wool", which is similar to their band name "BANGTAN". 

However on future discussions, someone brought up about the 'bell thing' to which J-Hope greeted the fans as "Hi Bell". R.M. also tallked how during concerts their fans will bring bells and on asking them to make some noise they will ring the bells. J-Hope provided the background effect to R.M. words making sound of ring-a-ling-ling-a-ring. It will be hillarious to witness such a scene.

R.M. feels so relieved that they finally agreed on 'Army' and thus the birth of the purple Army took place.
Also Read: BTS Suga Will Serve As Social Agent In Military Service
The Colour Purple
At one of the concert fan meetings, back in 2016, 'Kim Taehyung' our baby bear saw the color purple in the 'Army bombs' and related it to the last color of the rainbow. He coined the term "Borahae" translated as "I purple you" to express his and BTS's long-lasting trust and love towards their Army. He explained how BTS will love and trust their Army forever just like the last color purple that completes the rainbow.
'Borahae' and /or 'I purple you' became a phenomenon since then and eventually the fandom's color. In today's world, BTS and their Army are always welcomed with the color purple which can be seen lit up in famous architects and buildings like 'Burj Khalifa' during their notable events.
Taehyungie later explained how he came up randomly with this thought and feels grateful to Army for giving it such significance.
The Brand Logo of BTS and the Army
The BTS logo features two trapezoids half open from the inside representing doors. It acts as a symbol that means the Army meeting BTS at the doors and becoming one togetherly. It also means 'Beyond the Scene' according to the official explanations. The mission of this logo is to 'protect youths from prejudice' and encourage them to pursue their dreams instead of following the sheep herd and accepting the unappealing reality.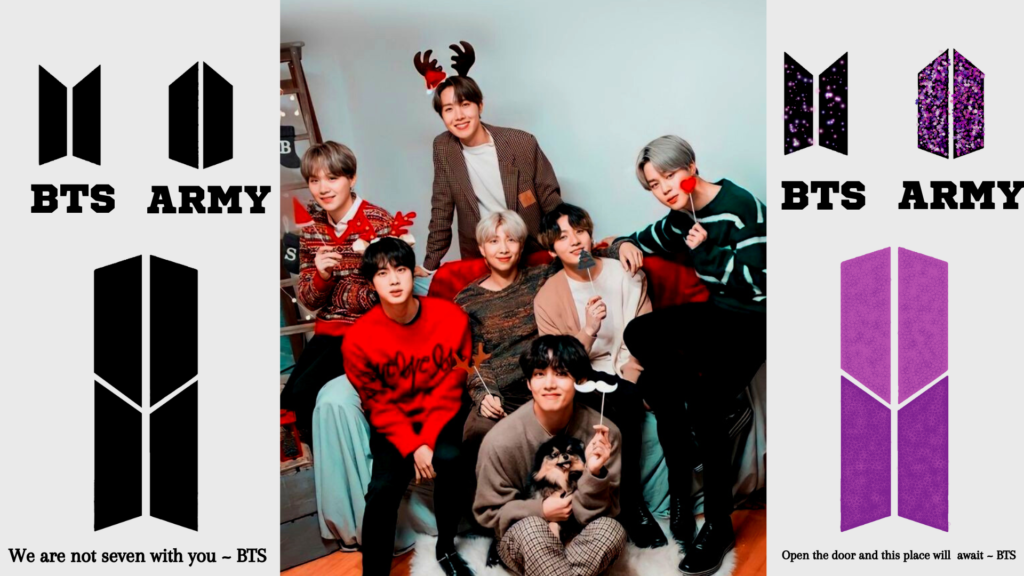 The Army logo is represented by two trapezoid doors half open from the outside. The sign embodies the BTS Army's ideal characteristics and nature of loyalty, vigilance, courage, truth, fortitude, perseverance, determination, zeal, remembrance, constancy, dignity, achievement, and honor.
With that being said, that's all for today. I hope this article brought a cute smile to your face and made you a little less "trustfrated" for the brand new year. Let's explore new stuff and build new dreams for our cute tannies and don't forget to wish and celebrate our tata mic singer; Kim Taehyung's birthday month.
Also Read: The Korean Seasons | A Different Perspective on the Four Seasons
Meet you all again at our baby bear's birthday!
Till then, don't forget to share your favorite nickname for the members of BTS with us in the comments down below.
Saranghae!
P.S. Did you know taehyungie once nicknamed himself "boa boa" meaning "baby"
Also Read: Top 5 BTS Versatile Songs & Their Surprising Meanings That Every BTS Army Can Relate