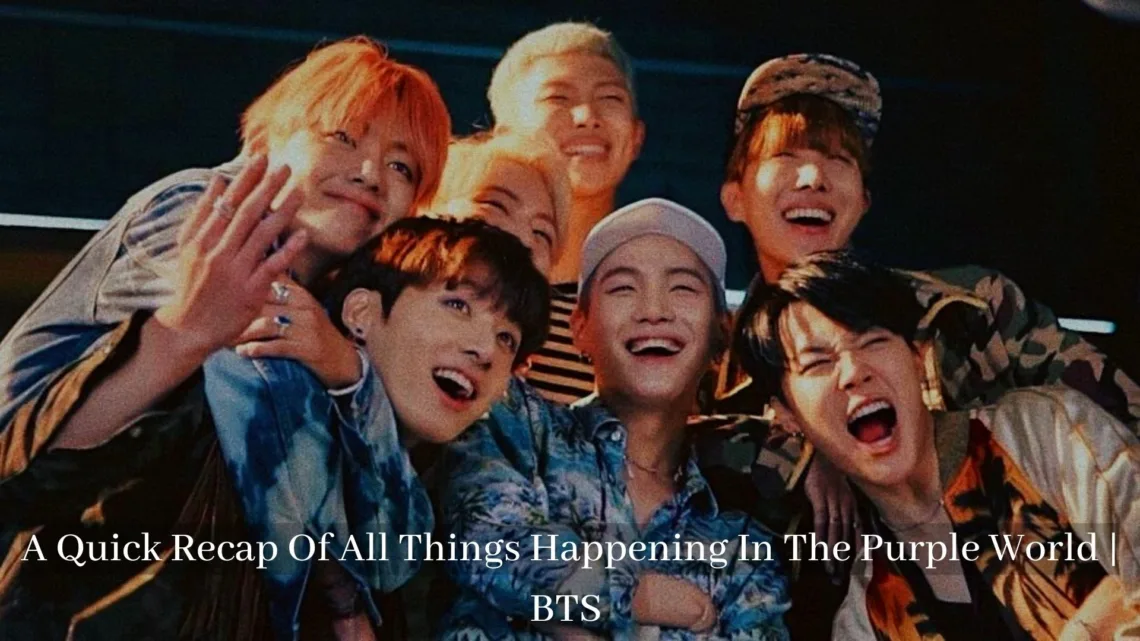 A Quick Recap Of All Things Happening In The Purple World | BTS 
BTS Jungkook was spotted with his girlfriend. V became speechless for an Army. Jin became the leader of his Military trainee group. Jimin showcased his new W Korea looks. Suga shared the dark side of BTS fame. RM curse the whole of 2023. J-Hope fame is misused. Damn WHAT A WEEK!
Wassup BTS Chingudeul!
This week has been crazy, demotivating and all things dark with the toppings of terrible sickness and countless hours of Netflix. But as said by an old and wise person; Sunrises are better than Netflix and every day a million miracles begin at sunrise.
So, I set the alarm for 8:00 am. Convinced me that I would wake up sharp at 9:00 am when the alarm rang. Then finally made my way out of slumber at 10:00 am. Kudos to me for discovering that I have legs and can also use them for waking apart from other activities.
So here I present a quick recap on all things happening at BTS this week because what's better to kickstart your newfound motivation with other than these 7 normal boys from Korea?
Ranking on Top of the list is our Golden Maknae Jeon Jungkook.
In November BTS Jungkook was spotted dining at a famous restaurant in Jeju. A netizen secretly took a snap of a girl sitting beside Jungkook which brought a storm in social media town and people began to whisper wild tales about Jungkook going on a date with his girlfriend.

With all the baseless speculations going around The restaurant owner Song Mingyu was directly asked about Jungkook's secret affair and the restaurant owner quickly responded that Jungkook was sitting with an old lady 'ajumma' who is a BTS staff member and not only Jungkook but three other men BTS staff are also there who accompanied Jungkook.

The false assumptions are cleared out in an instant putting rest in everybody's heart and mind. However, BTS Army and Antis reacted quickly with comments like how the youngest member of BTS can't even have a good meal peacefully and how stalkers have so much free time to frame the idol in false rumors.
Also Read: IVE To Make Guest Appearance On SBS Running Man
RANKING 2nd on the list is Winter Bear Kim Taehyung
BTS has always been famous for making things go out of stock with just a touch of it. Take Jungkook's Banana Milk Craze for instance. This time too BTS V a.k.a. Kim Taehyung set new records for an Indie game 'Goose Goose Duck'.

After making the world go through a meltdown on his boyfriend material looks in a quick six minutes video chat, Taehyungie promised to spend more time with his beloved Army later. The promise was certainly kept by the Winter Bear singer as he played video games the very next day with the BTS army.

He played an Indie game 'Goose Goose Duck' in which a fan named Wong made V speechless by showing faithfulness in BTS Army. V stood there as a stone breaking into fits of laughter as Wong keeps killing all the ducks and coming back to him again and again. 

Watch the video here: Taehyung Speechless to Army's Hillarious Reaction

This Live stream boosted the audience of the game from 6000 to 130,000 peak players within a month. The game developers Gaggle Studio Inc. assured fans to increase the game capacity of players and informed fans that they never thought the game will be such a hit, that it will make players wait for their turn to play the game.
Also Read: Destiny (운명) | A Story for Those Who Love to Read
Ranking 3rd On The List is Baby Mochi Park Jimin
W Korea Magazine recently launched their New Volume 2023 with Jimin as their Cover Boy. A total of six pictures were taken followed by blurred reels of the artist showcasing his attractive features.

BTS duality has always been seen as a unique unworldly trait of theirs. Be it stealing our hearts with their caring, loving, and baby-cute personalities to sending a shiver down the spine triggering imaginations wild. The Bangtan Boys have mastered the skill of switching from sweet to sexy.

After V's Vintage Photoshoot BTS Jimin made Army go berserk with his dripping hot looks at the W Korea cover magazine. Despite the blurred videos, BTS Army was quick to recognize the idol's face making W Korea confess early that it is none other than Park Jimin.

Jimin was seen with a garden of flowers, jumping on a spring bed to posing for a self-photoshoot image. The series ends with Jimin's black and white portraits and vibrant pictures capturing his stunning visuals.

The W Korea Jimin edition magazine will be costing around 9,500 Won / $7.51 USD each and the full set will be costing around 57,000 Won / $ 45.09 USD
Also Read: BTS Jimin Collaboration With Taeyang Is Unveiled | New Teaser Of "Vibe" Revealed
Ranking 4th Is BTS Leader Kim Namjoon
Kim Namjoon a.k.a RM often considered the most active member on Instagram after J-Hope. He has been often seen sharing workout routines, songs that he is listening or various BTS shows upcoming trailers.
RM likes to add little notes for Army in his Work Out Routine picture. He also tags famous artists like EnHypen's Jake and Nik-Ki in his Happy New Year Workout Routine post.

This time RM uploaded a story with the same whiteboard workout routine but with the greetings of 'Happy F**k*ng New Year'.

Soon after his post-BTS Army shared their personal views that Namjoonie must be pissed to start 2023. Recently RM also shared how The Hweomsa Temple secret reveal was an unexpected move from the monks and shared his personal angst on that too.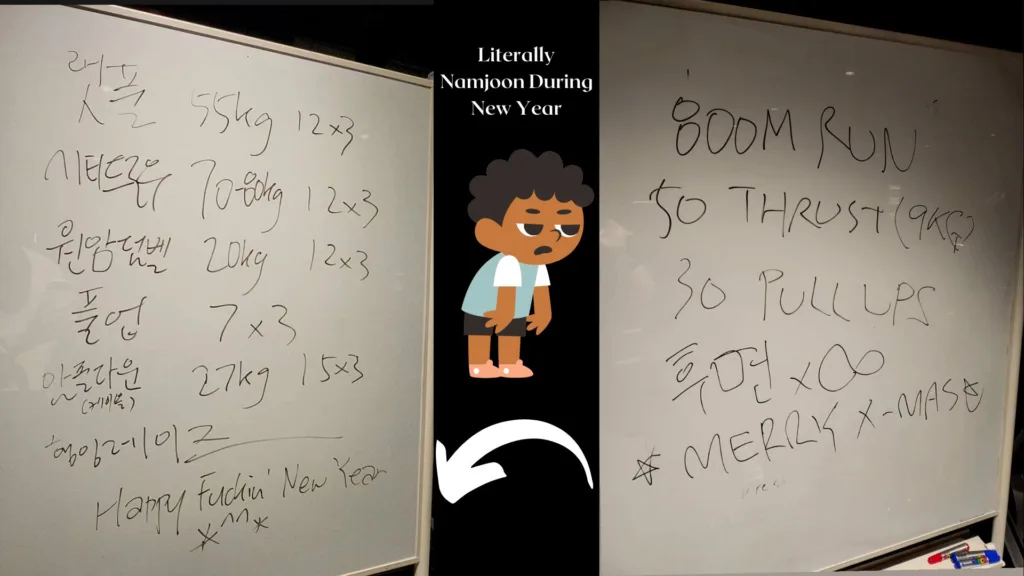 Also Read: BTS RM Reacts to The Hwaeomsa Temple Monks
Ranking 5th On The List is World Wide Handsome Kim SeokJin
Since Jin joined the Military to complete his faithful duty to his motherland a lot of pictures surfaced on the internet. BTS Army is constantly being updated about Jin's enlistment days. Among the many looks and activities Jin has been spotted to partake in the most recent one made BTS Army immense proud.

On January 6th, the military uploaded pictures of BTS Jin undergoing his training. As Jin wishes to be listed as an ordinary citizen, the military officials also treated him as one of us and shared pictures of Jin like other trainees undergoing the Hwasaengbang training.

Even if the quality of the picture were filled with a lot of noise and the pose makes it difficult to comprehend his army uniform. BTS Army is quick to spot the badge tagged in his uniform. The badge reads 'company commander' (중대장).

Soon after the revelations, BTS Army shared views of being proud of the silver voice singer as the badge name indicates that he might be the leader of his trainee group and there will be a possibility that Jin will be awarded for his impressive hard work in his trainee graduation.
Also Read: Yet To Come In Cinema Of BTS To Be Released In 2023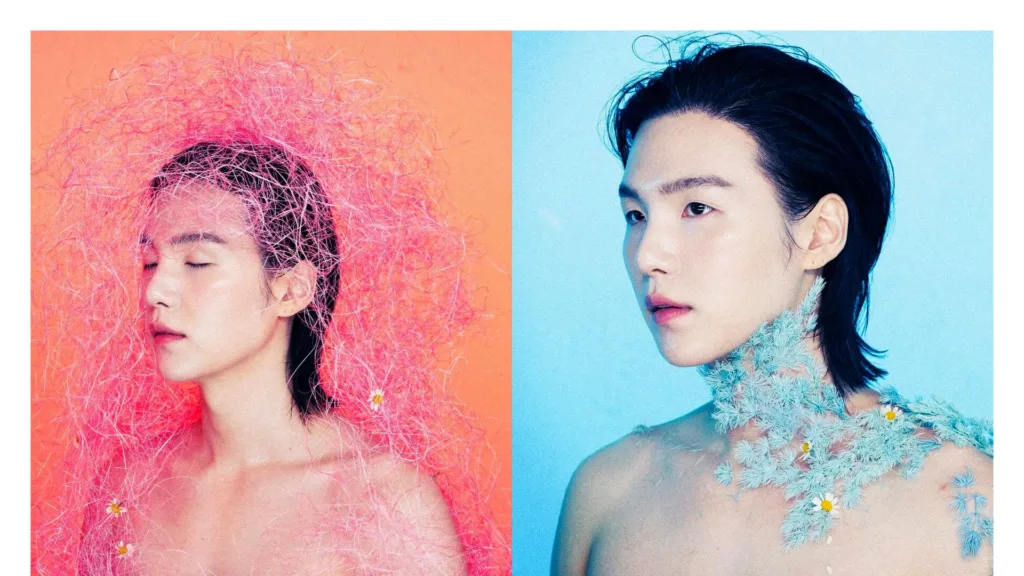 Ranking 6th On the List Is BTS Bad Boy Min Yoongi
Min Yoongi a.k.a Suga has been seen as more active on social media compared to his past records. His recent photoshoot of creative shirtless pictures made Army chant the holy name 108 times.

With comments like 'What a start for New Year' and 'Gone are the days when Army used to fantasize BTS foreheads' Suga has also launched his recent chat show 'Suchwita' in which eminent artists and renowned creators will join Suga over drinks and food to reflect on the past journey and fun topics.

His second episode was filmed with legendary comedian Shin Dong Yeop in which both of the artists were witnessed sharing their views on BTS's exceptional rise. Suga has been seen complimenting Shin Dong Yeop's comedy skit and how he admires that the artist can highlight dark topics like social Taboos in South Korea in a lighter way.

Shin Dong Yeop shared his excitement to join Suga's chatshow even if the comedian artist is jam-packed with back-to-back interviews. Both of the artists also reminisce about the good old days by taking a walk down memory lane and also opened up about how BTS's influential popularity has created difficulties in approaching people due to the false scandals that revolve around the Internet.

Earlier RM also shared in one of his posts how their fame has made him shut himself off and how he misses the ordinary days of his life in which they can communicate with people freely. Suga also shared how Jin and he wish to not make people think that they are unapproachable or uncomfortable if somebody reaches out.

Shin Dong Yeop also pointed out the fact that due to Hybe's strict policies, BTS is restricted and expected to behave in a certain way and how in their own shows like Run BTS and In The Soop BTS's true nature and personalities can be seen unfiltered.
Also Read: BTS Suga Is Actually A Wattpad Writer in Disguise
To end our List Of All Things Happening In The Purple World, ranking 7th On The List is Our Sunshine and Golden Hyung J-Hope
BTS J-Hope kept BTS Army updated about his latest schedules through his Instagram account uarmyhope. According to media outlets J-Hope was to perform at the 37th Golden Disc Awards held at Rajamangala National Stadium in Bangkok, Thailand on January 7th, 2023.

On December 14th, the organizers of the event announced that J-hope would be performing for his fans at the award show but given the fact that J-Hope always updates fans about his upcoming concert like Dick Clark New Year Rockin' Party Eve, he seemed to remain silent for this one.

Hybe also hasn't commented on this news which made Army suspect that this might be an agenda and filthy trick pulled by the Golden Disc Award creators to sell tickets.

According to a media report of JTBC, it was confirmed later that J-hope won't be performing at the award show but he will attend the award show and expected to meet fans later.

BTS Army felt misguided and shared that the 37th Golden Disc Awards has cheated them over false hope. They even called out Hybe for not clearing out the doubt and false information.
Also Read: J-Hope Would Be The One Collecting Kisses From Everyone on New Year's Eve
Annyeong!