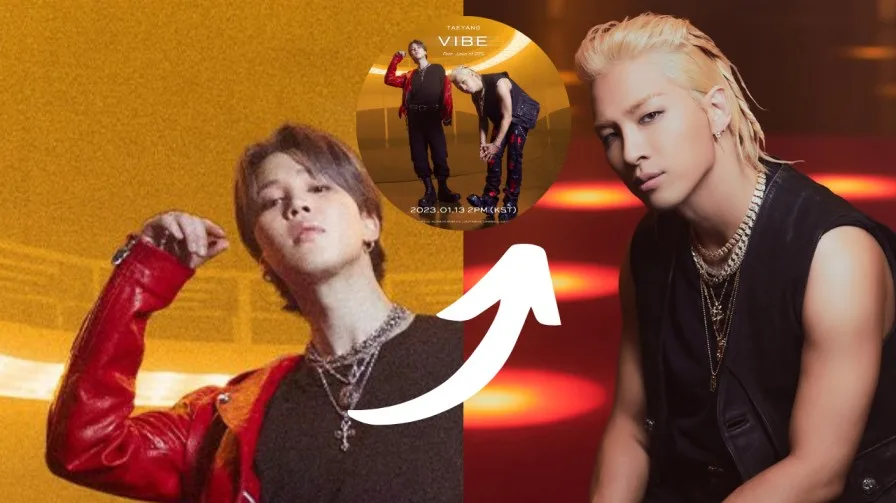 BTS Jimin Collaboration With Taeyang Is Unveiled | New Teaser Of "Vibe" Revealed
Jimin Armies! Make some noise! Because our boy Jimin is back with another highly anticipated collaboration with BIGBANG's Taeyang! Days ago we shared the rumour of BTS Jimin's collaboration with Taeyang. Back then, BigHit didn't respond directly but the collaboration was anticipated.
Also read: Jisoo Solo Album Updates | YG Entertainment Confirms Jisoo's Solo Debut
Finally the teaser photo of the song "Vibe" is finally unveiled by BigHit Entertainment and The Black Label on 4th January 2023. The MV is all set to release on 13th January 2 PM KST 12 AM EST.
Also read: J-Hope Would Be The One Collecting Kisses From Everyone on New Year's Eve
Both of the artist's graceful gaze and cool style in the photo is making fans super excited about the song.
Few days ago, Industry insiders revealed expectations about Jimin's collaboration with Taeyang. Jimin also went out of Korea for an unknown reason. Eagle eyes Armys became more obvious about his upcoming project.
Also read: BTS To Become The CEO Of Twitter| Elon Musk Approved the Proposal
This is the first solo comeback of BIGBANG's Taeyang in last six years. This is his first solo comeback after he joined The Black Label, a subsidiary agency of YG Entertainment. Taeyang first made his debut through YG Entertainment and now continuing his work with it's subsidiary The Black Label
Both of the artist's pose is giving the vibe of their upcoming "vibe". We're eagerly waiting for the stunning vocalist's melodious collaboration.
Let's keep calm and wait for it.