Kim Taehyung Trending For Backless Jacket and One Button Down Looks | Latest Youn's Kitchen Updates
Backless Jacket! No Shirt On! Serving Hot Dogs! Waving At Fans As He Swiftly Moves Out Leaving Army Amazed.
Taehyungie making people gasp all day!
Once Srk from Bollywood said; 'Agar kisi chiz ko dil se chaho na toh puri kaaynat use tumse milane ki zurrat m lag jati hai'.
Translation: If you really want something truly by heart; the universe conspires to make your wish come true.
Taehyungie a.k.a BTS V has proved once the proverb once again true. In an episode of Run BTS Kim Taehyung shared how he wants to attend as a guest visitor in PD Na Young shows.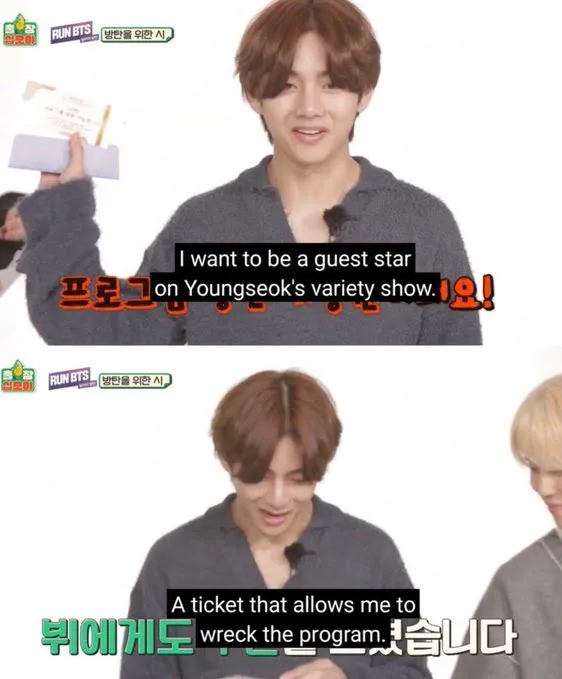 He even mentioned wrecking the program if he ever gets a ticket for that.
On November 9 tvN confirmed PD Na Young's upcoming spin-off show Youn's Kitchen. They want to make viewers see the beauty of Korean Street Food through this show.
Just a month later, Star news confirmed about BTS V joining his Wooga squad in the show alongside Lee Seo Jin and Jung Yu Mi.
Taehyungie flew to Mexico secretly and came back a day earlier to bid adieu to his hyung Kim Seokjin after finishing his shoot quickly.
Army's excitement was untamed hearing the reunion of the Wooga squad, and while they are trying to control their anticipation tvN dropped clips of the cast filming the series.
The clips were iconically chaotic. People are confused with chairs, the cast helping each other to finish quickly at the last minute and Taehyungie literally struggling to serve Hot Dogs to the buyers.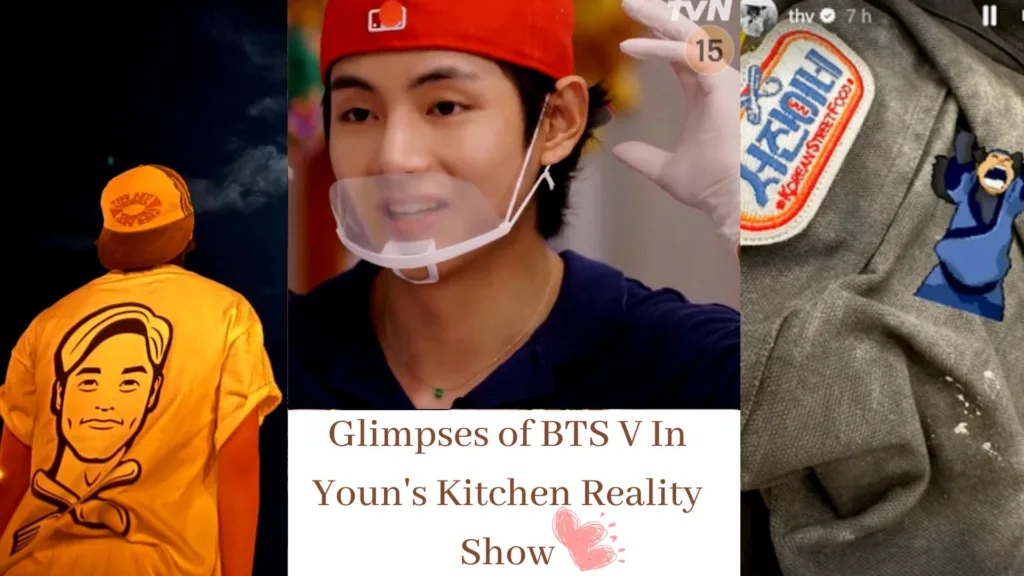 They even captioned 'Taehyung's Mental Breakdown' while sharing the clip of Taehyung as our baby bear cutely serving the delicacies.
Taehyungie himself could not hold his excitement and shared the first look on his Insta story where he flaunted wearing a pair of shorts and a polo t-shirt posing between Choi Woo Sik and Park Seo Joon.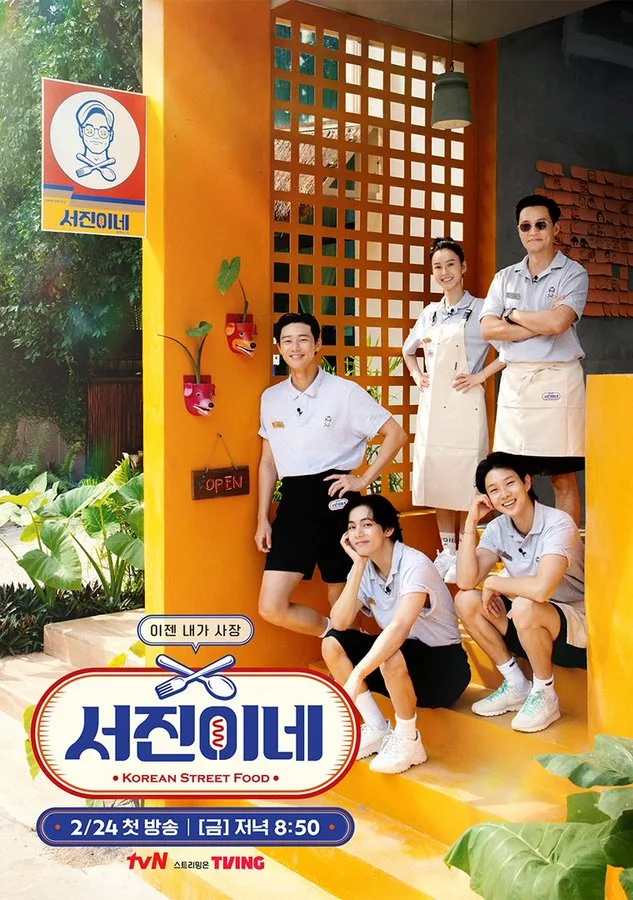 He added the song 'You've got a friend in Me from Toy Story in the background along with a picture of the uniform focusing on the name making the Army impatiently wait to steal a glance at Chef Kim Taehyung
Amidst his cute taetae looks of him, today he made the internet shiver when he walked out from CJ ENM Center in Sangam Dong. According to media outlets, BTS V went there to shoot a You Quiz on the Block with his wooga Squad; Choi Woo Sik and Park Seo Joon.
At first, he wore a black cardigan coat with a caramel buttoned shirt with only one button close. Snippets of his looks arose enormous questions in Army's head about BTS V being naked beneath the internet divided into the team "Taehyung is wearing a shirt beneath' vs 'Taehyung is shirtless inside'.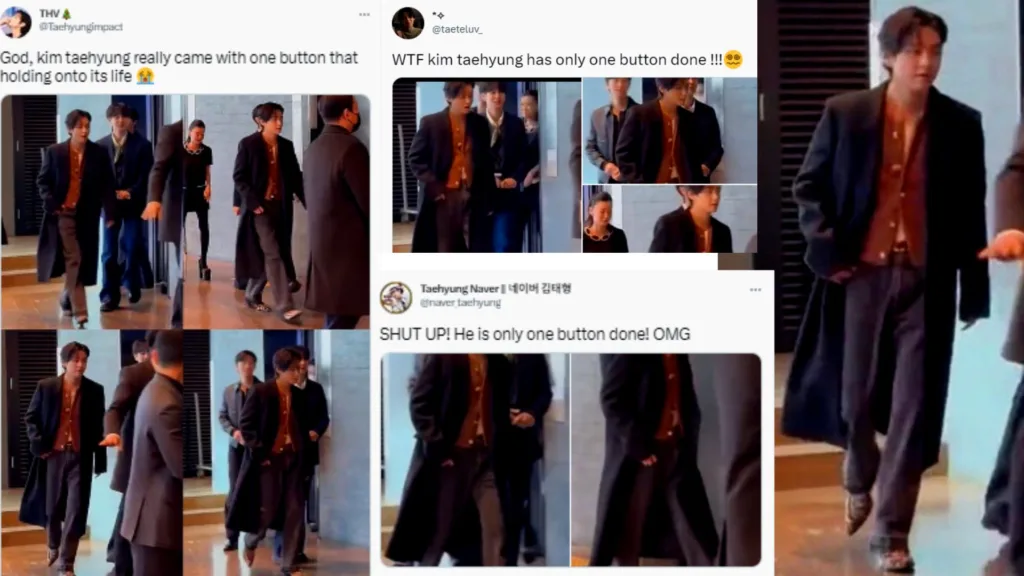 Army's from all over the world gave mixed reactions with hilarious comments like Taehyung just let only one button hold onto his whole ensemble, Kim Taehyung is only one button down SHUT UP! And many more.
Later a media source outlet confirmed that he is wearing a white plain tee beneath and ended the dilemma for good.
Meanwhile, the Wooga squad sported a deathly gorgeous look; Choi Woo Sik in a white suit, Park Seo Joon in a black suit, and Kim Taehyung in Celine's Backless Jacket.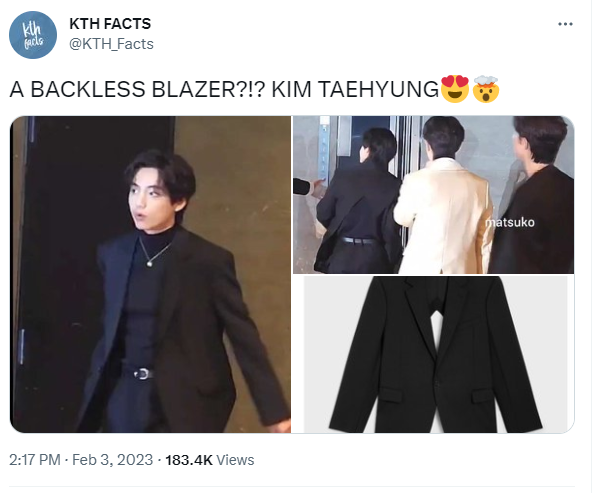 The internet is currently buzzing with Backless Jacket with no shirt underneath trend as the countdown for his latest show begins.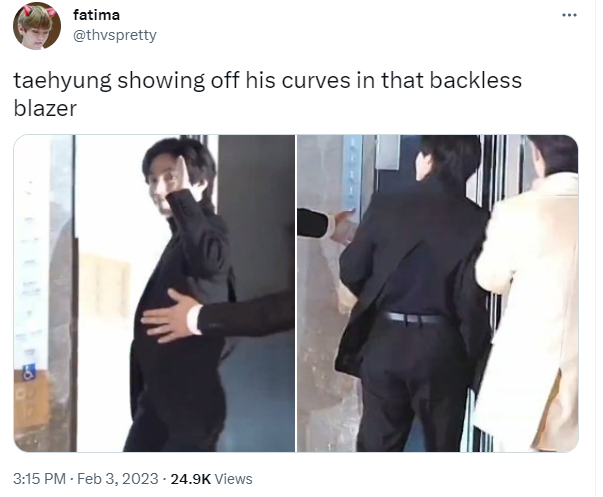 Youn's Kitchen is to be premiered on 24th February at 8:50 pm KST.
Also Read: BTS Jungkook Breaks Hybe's Rule to Reconnects With Army