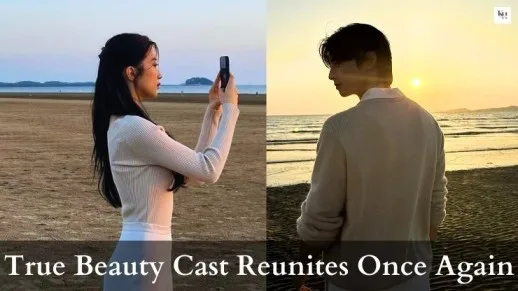 True Beauty Stars Shares Couple Pictures
True Beauty Stars sends the Internet into a Frenzy with their New Couple Pics
Before the world can fade out on the memories of the teenage chaotic drama portrayed by the trio of 'True Beauty Cast'. Cha Eun Woo and Moon Ga Young drive the world to a nostalgic ride sharing couple pictures on their Instagram post.
At first K-pop fans and netizens hinted it to be an actual confirmation of a romantic relationship in real life but later it was confirmed that the duo reunited for a dreamy beach side project for Hanwha Life Insurance, South Korea's second largest Insurance Company.
Fans are more elated on the fact as the advertisement scene reminds them of a memorable moment of the drama as thousands of K-drama lovers have tweeted that they couldn't help but to reminiscences the moments of True Beauty drama.
According to reports, actress Moon Ga Young has recently graced Milan Fashion Week as a special guest of Dolce and Gabbana whereas Actor and K-pop Cha Eun Woo is starring on his new quirky romance drama titled 'A Good Day to be a Dog' where he is playing the role of Jin Seo Won who needs to overcome his fear for dogs and help a woman break the curse that is turning that woman into a dog.
The full length commercial is yet to be released, however the teaser was enough to melt hearts worldwide featuring the stars in crème and beige outfits.
For readers who are unaware of the stars. True Beauty is a highschool romance drama featuring the darling K-stars Hwang In Yeop as Han Seo Jun, Moon Ga Young as Lim Joo Kyung and Cha Eun Woo as Lee Su Ho. The plot of this drama revolves around a love triangle that will surely force you to choose sides.
Also Read : Top 10 Best K-Dramas of All Time | Korean Drama