LOONA's Chuu Breaks Silence After Being Removed From LOONA
The recent controversy regarding the popular k-pop band LOONA has shaken the internet. Fans are worried about South Korean singer Kim Ji Woo aka Chuu, as many think BlockBerry Creative agency is framing her.
Also read: LOONA's Agency Announced Chuu's Removal | Blockberry Creative
Controversy: LOONA's talent agency BlockBerry Creative released a statement on 25th November, claiming that LOONA's member Chuu used violent words and misused power on one of the agency's staff. Agency followed up its statement with an additional one on 28th November, saying that the right of revealing the truth belongs to Chuu and the staff themselves.
Popular South Korean singer, Chuu is now removed from the k-pop group LOONA. Other members of LOONA showed concern for their group as a wave of controversies affected their band's reputation badly.
Finally, Chuu broke the silence and came up with her confession on her official Instagram handle. She thanked all her well-wishers for concerning and trusting her. She continued by saying she hadn't received any contract regarding the unfavorable situation. Currently, she's trying to grasp the situation. She also assured her fans that she didn't do anything wrong that would make her fans ashamed of her. She followed up by saying she will update according to her position in the future.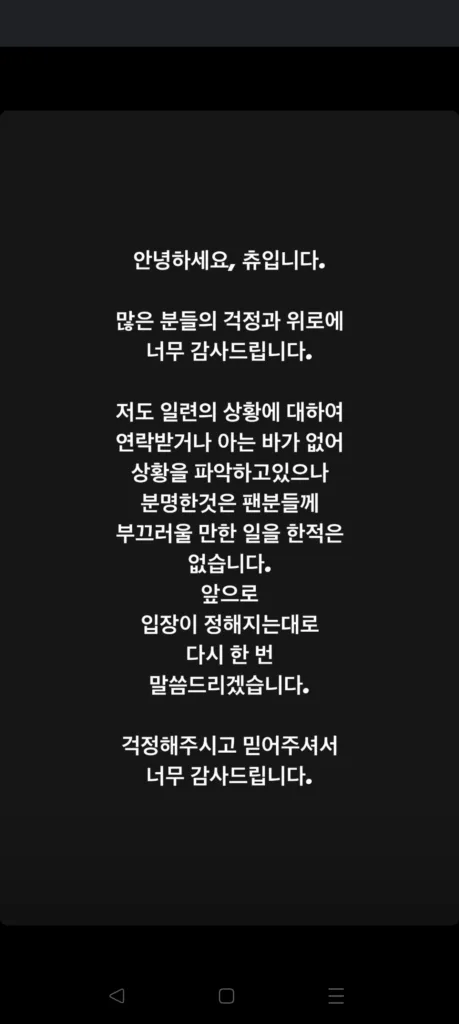 Hanami: We're looking forward to positive news regarding this matter and we hope they'll sort everything out on good terms. We'd ask fans to not worry but trust Chuu.Stay tuned for more updates regarding latest k-pop news.
Annyeong chingus!