Kim Taehyung Gets A New Name As 'Human Gucci' by American Magazine
The 95's singer BTS V got featured in the American Magazine J-14 Generation Z's boys' list
Here goes the continuation of Kim Taehyung's Reigning for 2023
Once again, Kim Taehyung proved his unwavering influence on the world. Be it making us dream as hopeless romantics in his vintage 80's looks or stealing the hearts of Gen Z. This man again showed us that the world is a runway and he is the show stopper.
According to various media outlets, Kim Taehyung got featured in the 'American Magazine J-14 Generation Z IT list' along with Timothee Chalamet, Christopher Briney, Conan Gray, Xolo Mariduena, and many more.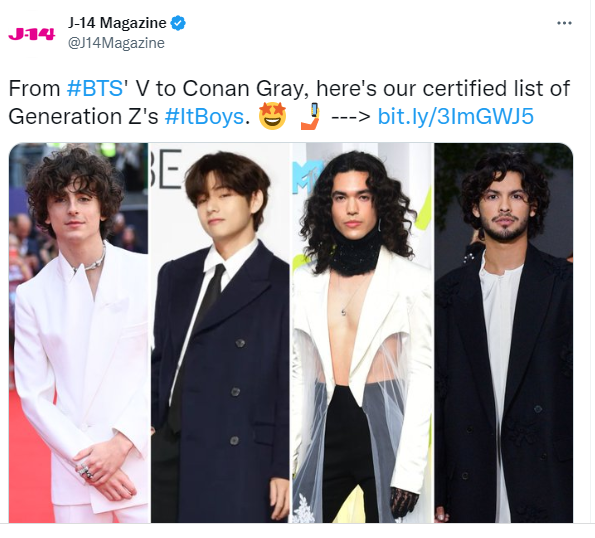 The magazine wrote that Kim Taehyung's influential personality goes beyond his singing and dancing talents. He dominates the fashion industry with his own unique style and coined the term 'Human Gucci'.
As quoted by Vogue: 'The Icon of an Era V'. True to their words, V really reminds us time and again that he is not a human. Sometimes he transforms into this beautiful moment for his army like an era only to be lived, loved, and feel.
About American J – 14 Magazine:
The American J-14 Magazine is founded in 1998 and its first publication happened in 1999. It is listed as one of the earliest teen celebrity magazines and its headquarters lies in Englewood Cliffs, New Jersey. The acronym J-14 sounds like "Just for teens" which is the tagline of this magazine. This magazine features teen gossip, quizzes, fashion, posters, and information on celebrities and topics based on the interest of their readers.
Also Read: The 8th Member of BTS | Bangtan Sonyeondan |
Annyeong!