Park Jimin Shines At Dior Winter Men's Show
BTS's Park Jimin made a stylish appearance at Dior's Winter 2023-2024 Men's show during Paris Fashion Week on January 20.
As a global ambassador for the luxury fashion house, Jimin sat in the front row alongside his bandmate J-Hope.
The following day, Jimin shared some behind-the-scenes photos from the event on Instagram. The pictures show Jimin posing with some of the biggest names in fashion and entertainment, including Robert Pattinson, David Beckham and his son Cruz, and Dior Men's artistic director Kim Jones.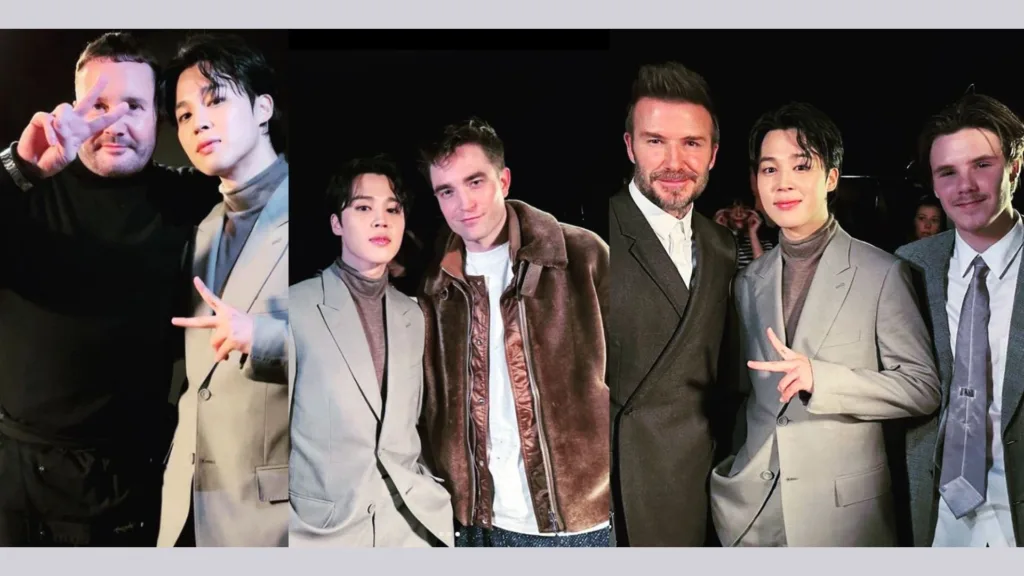 Jimin's stylish outfit at the event was one of the attractions of the night. He wore a sleek black turtleneck and pants, paired with a black and white houndstooth coat. His outfit was completed with a pair of black boots and a black fedora hat.
Also read: Cha Eun Woo In Talks For Joining Latest Action Drama "Bulk"
The photos also show Park Jimin and J-Hope sitting in the front row at the fashion show, taking in all the latest designs from Dior. They seem to be having a precious time, laughing and chatting with each other.
Also read: Suga Of BTS Is The Latest Brand Ambassador Of Valentino
Jimin's Instagram post also included a message to his fans, expressing his excitement about the event and his appreciation for the opportunity to attend. He wrote, "It was such an honor to be able to attend the Dior show as a global ambassador. Thank you so much for this opportunity. I hope to continue to be able to share my love for fashion with all of you."
Overall, Jimin's appearance at the Dior fashion show was a highlight of Paris Fashion Week. His stylish outfit, front-row seat, and behind-the-scenes photos have fans talking and eagerly waiting for more fashion inspiration from Jimin. As a global ambassador for Dior, we can expect to see more of Jimin in the world of high fashion in the future.